USTC Astronomy Colloquium Series: 2019 Spring
The Forgotten Dynamics: why Textbooks are always wrong
University of St Andrews
2019/07/18,
4:00pm
, the 19
th
-floor Observatory Hall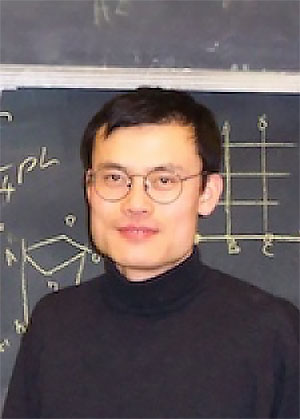 Standard textbooks often insist on inaccurate even wrong concepts of redshift and lensing. Here I show two examples where relativistic effects can lead to measurable corrections in galaxy dynamics and lensing. I discuss how future dedicated observations of these subtle effects can open new channels to observe the universe, especially new ways to measure proper motion of distant galaxies using only spectra.
Prof. Hongsheng Zhao is a professor at the School of Physics and Astronomy in University of St Andrews. He graduated from Modern Physics Dept from USTC and took a CUSPEA fellowship in 1988 to study his PhD in Columbia University, New York. After his PhD in Physics and Astronomy, he started a postdoc fellow at MPA in 1994, and later at Leiden and Cambridge, where he obtained a STFC advanced Fellowship in 2002. Prof. Zhao's primary research interests are in galaxy dynamics and lensing, and their application in testing modified gravity and dark matter. He has also been a visiting professor in Institute of Advanced study in Princeton, and Kavli institute of Cosmology in Cambridge. For this summer he is a visiting professor at USTC.